Airbrush Action
With the huge amount of cross-pollination between street art, craft and fine art, it's timely to look at a painting tool with a long history: the airbrush.
First introduced into art over 100 years ago, the airbrush can deliver a paint line from ballpoint thin to spray gun wide through a simple trigger control. It has distinct benefits over the more popular aerosol paints of today: a more variable and controllable spray pattern, a wider range of mixable genuine artists' colours, it only uses air as its propellant, is more cost effective long-term, and has none of the ecological and few of the health concerns.
An airbrush can reduce working time, make painting into awkward spaces easier, as well as provide a fine, even coat of colour on 2D and 3D surfaces. This makes the airbrush a valuable tool for artists customising vehicles, skateboards, and the like, to modeller makers and figurine painters, to fine art painters and graffiti artists.

For airbrushing, you require an airbrush and air compressor, an initial expense that provides for many years of use. Our Harder & Steenbeck airbrush range provides perfect German precision and durability, and their Evolution airbrush is the No1 in Europe.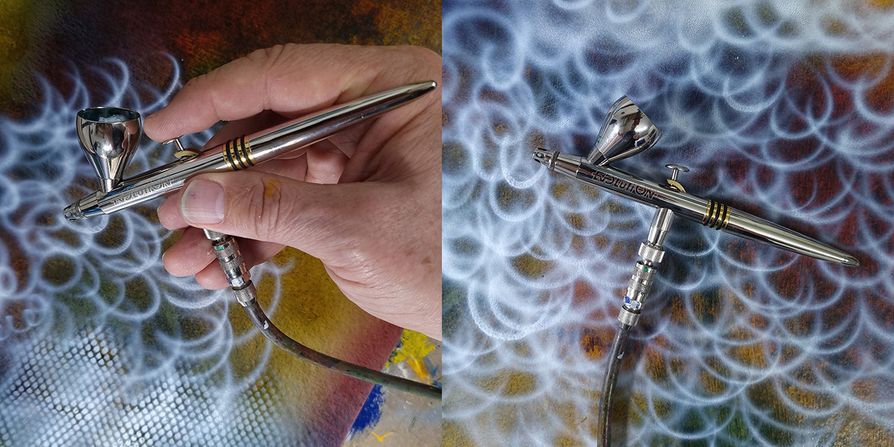 The Harder & Steenbeck Evolution airbrush fulfils many airbrush techniques, with its super-smooth action, needle/nozzle variations, and accessories such as splatter cap.

Airbrushes can be divided into two main categories: single-action and double-action. Most artists prefer double-action, as this gives control over air and paint flow, allowing line work from very thin to very broad with just the movement of your finger. Our Harder & Steenbeck models are all double-action.

Airbrushes have nozzles that determine how small your line can go – from 0.15mm up to 1.2mm. The smallest nozzles require finely-ground colours, such as Golden High Flow Acrylic, Schmincke Aerocolor, or Golden Fluid Acrylic with added Airbrush Medium – more coarsely ground and thicker paints will clog these fine nozzle apertures. Bigger nozzle sizes, typically 0.8mm upwards, allow for coarser paints (even gesso!) and wider spray patterns.

Using an airbrush is simple, once you get used to hovering above the surface rather than being in contact with it. The trigger is pressed down to start the airflow, then pulled back to introduce paint into the airstream. The further back the trigger is pulled, the more paint is released.

The shape of the air/paint mixture coming from the gun is called the "spray pattern" and is a cone: narrower at the point of exit and expanding as it moves from the airbrush. This means that finer lines are made with the airbrush closer to your work surface, as the cone is being formed, and broader areas made by bringing the airbrush back from the surface, enlarging the cone.

The fine lines being created closer to the surface require less paint, so the trigger is only pulled back slightly. Broader lines created by bringing the airbrush further back from the surface (expanding the spray pattern) require more paint, so the trigger is pulled back more. Releasing too much paint too close to the surface results in tendrils of wet colour getting blown across your surface. It's easy with a little practice!

As the spray pattern makes a soft diffused edge, masking is used to give hard edges and to protect previous layers. Stencils, masking film, low-tack masking tape, and liquid masking is used where a sharp definition is wanted. Paper can be used for "dry masking" a slightly softened edge.

When choosing an airbrush, the most important question to ask yourself is: what do you want to be able to do with it? A model that is perfect for fine painting of figurines may not be suitable for applying large areas on a canvas. Equally important is the availability of spare parts and service: airbrushes are precision instruments that need careful attention.
We have been distributors for Harder & Steenbeck airbrushes for nearly 30 years, due to their quality German manufacturing and history. Harder & Steenbeck started in 1923 and have kept the manufacture in Germany to ensure the precise machining of delicate parts for the highest performance. Their unique features such as the "Jetstream" nozzle cap, floating German Silver nozzles, secure screw-in colour cups and variable pressure models, along with a wide range of accessories, have made them No1 in Europe for many years. At Gordon Harris, we offer a full range of parts and service too.
Let's Take a look at a few from our Harder & Steenbeck airbrush range.
This professional airbrush will perform most functions admirably, from fine detail painting using its 0.2mm nozzle, to broader techniques such as model and custom painting with the more versatile 0.4mm nozzle.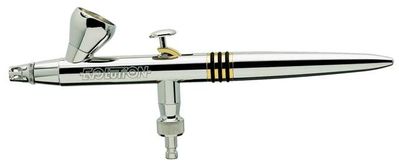 Colani
With its distinctive purple ergonomic handle, this is a controlled double-action airbrush: simply pull back the trigger for air first, then colour. The Colani is ideal for large areas such as custom painting, body art, and fine art. With separately available nozzle & needle sets from 0.4mm to 1.2mm the Colani offers a huge diversity of application.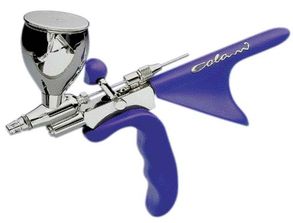 Infinity
The ultimate airbrush for super-fine control, The Infinity is a high-end professional airbrush capable of the finest possible lines with its 0.15mm nozzle, as well as more general work using its 0.4mm nozzle.

No matter which airbrush you use, the Golden Rule For Airbrushing is: keep your airbrush meticulously clean! Airbrush colour needs to be washed from the instrument with a proper airbrush cleaner – water won't remove paint reside, and it takes very little build up to partially block these finely-tuned painting tools. We recommend Schmincke Aero RAPID, which will even shift dried-on acrylic.

An airbrush needs quite a specific compressor to supply the airflow. It needs to deliver air pressure from about 1 Bar to 3.5 Bar (15psi to 50psi) through a variable pressure regulator, with a moisture trap for taking water out of the air before it reaches the airbrush. Operating pressure is usually around 2.5 Bar, with lower pressure for splatter effects and higher for thorough cleaning.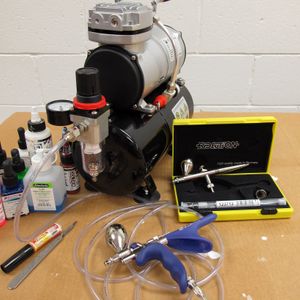 Our Expression Air Compressor AS-186S is a diaphragm compressor that more than meets these requirements, as well as operating at a low noise. It has a holding tank, so the air is stored at a controllable pressure before being fed to the airbrush. This gives a "pulse-free" supply of air (diaphragm compressors deliver air in a rapid series of pulses which can disturb very fine lines) as well as reducing operating noise, as the motor only switches on when the air in the tank drops below the selected pressure.
Purchasing an airbrush and compressor is a reasonable capital expense, like buying an easel, and one that will last many years with the proper selection and care. Here at Gordon Harris, we have the experience and on-going support to help, along with offering all the other art materials that go with airbrushing: airbrush colours, cleaner, masking film, scalpels, board, respirators, service and spares.