Gordon Harris Aritsts: Xavier Tapp
A conversation with Waikato based artist Xavier Tapp where he takes us through his process of manipulating our perceptions and scaling them up to murals for public art.
Can you tell us a bit about your art practice and how you got to where you are now.
My art practice is mainly focused on abstract isometric geometry, I like to use crazy vibrant colour palettes to emphasise my compositions. It wasn't initially like that though, I have always been inspired by brutalist architecture and even landscape painting, my style has changed drastically as I've grown as an artist and I found myself repeatedly going back to hard edge abstraction. The past four years I have been studying at Waikato's institute of technology (WINTEC), starting off with a Bachelor of Media Arts, and after that I realised I wanted further study, so I continued to do my honours post graduate degree. During the year of my honours I had the opportunity to do a few murals which was another step in my artistic career, having never painted a wall before then.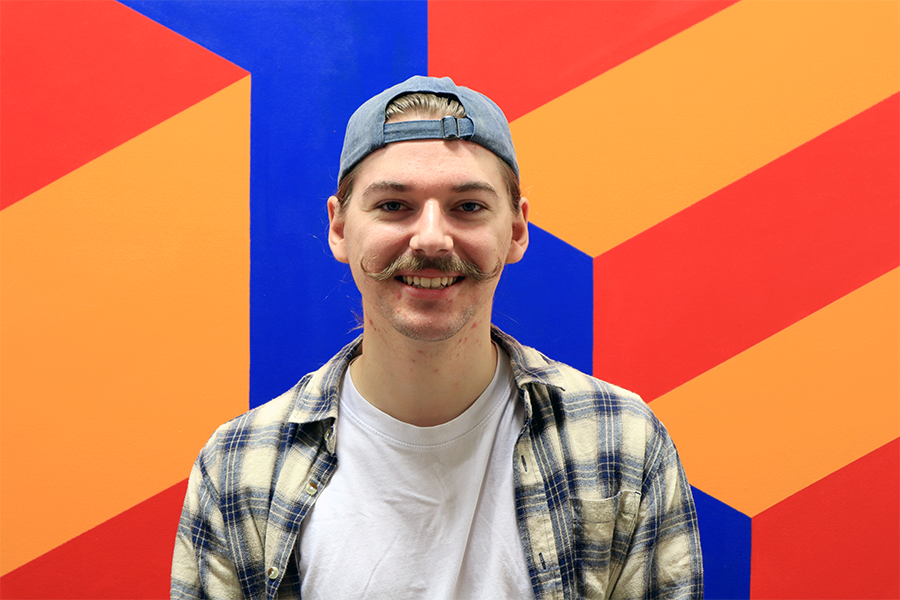 Where does making a painting begin for you? Can you take us through your process?
Every painting starts with a drawing, I like to use LEUCHTTURM1917 A5 Notebooks, especially the dotted notebooks, this helps incredibly when drawing in isometric methods and I also they have them in a range of awesome colours. I take this book around with me everywhere and when I feel inspired, I draw.
When I have a design that I particularly like, I then refine the design in ADOBE Illustrator, this is where I can then decide on my colour palette. With a refined design I then laser cut or use a jigsaw to cut the shape of the design usually out of hardboard sheets, and then I can cut and assemble timber backing to make my shaped panel.
A lot of time goes into the preparation of these panels, a lot of sanding on the edges to get the smooth finish I prefer, and then I like to use Golden GAC100 to seal the panel, and then a couple coats of Pebeo studio gesso. After the priming I then have a shaped panel ready to be painted. On which I like to use Molotow Belton premium spray paint, with over 250 colours to choose from! I start off by masking the first elevation, then take the panel into the spray paint room to put on the first coat of paint, I then repeat that step a further two times, to result in my finished painting!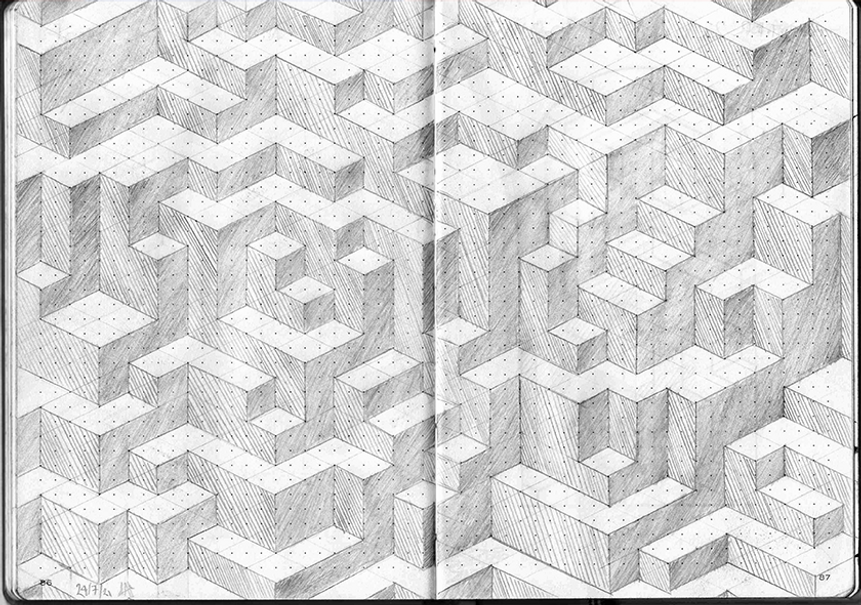 How do you decide and choose the colour palette for each painting?
My colour palettes are all very intuitive, I definitely have colours I prefer to others, but I usually tend to go wild, I love my loud vibrant colours, and a good colour palette can really define the illusion in my work. When it comes to choosing my palette, I have a colour sheet saved to my laptop and I also have one in the studio, which has all Molotow's premium colours, so I can easily use the colour dropper to pick out my colours when refining my designs. With my style I only require 3 colours so it can be easy to choose a colour palette, but I usually have a few different variations to choose from. I tend to pick two monochromatic colours to contrast the design, and then I like to pick a complimentary colour to really emphasise the elevation.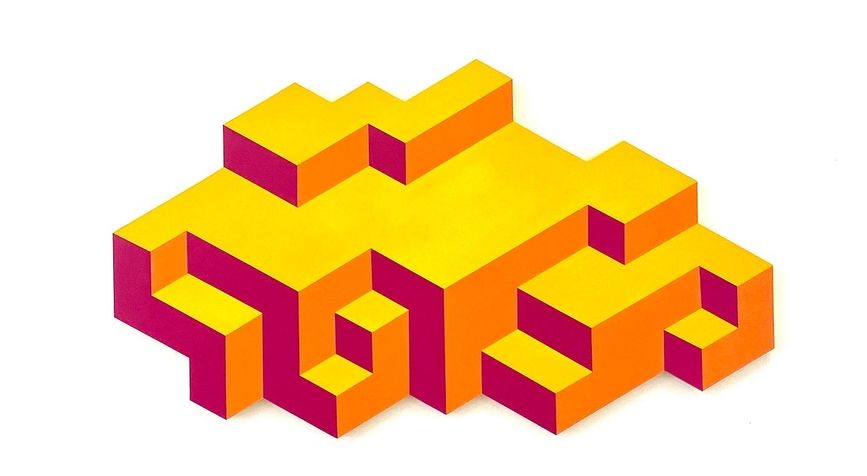 What are your must have artist tools and why?
Masking Tape, an absolutely must when creating hard edge geometric paintings, masking up an artwork is an art form in itself. Sometimes it's more time consuming then the painting stage itself, and then the tape peeling at the end is a satisfying bonus!
Molotow Spray Paint 400ml, these spray paints are just beautiful, such an amazing colour range, with like 240+ colours to choose from. I like to use spray paints for my paintings because you can get an even coverage, flat low sheen surface, and with masking tape a clean hard edge with literally no bleed.
Goldens SoFlat Acrylics, these are fairly new to my practise but they're amazing, majority of the colours are incredibly opaque, no need for masking either as the paint brushes out beautifully, smooth and even coverage, as it dries while the brush marks also self-level
Da Vinci Art Brushes, these pair well with the Golden SoFlat's going hand in hand to create flat opaque paintings, I prefer to go for the flat brushes as they create some crisp lines and are easy to cut into those tight corners.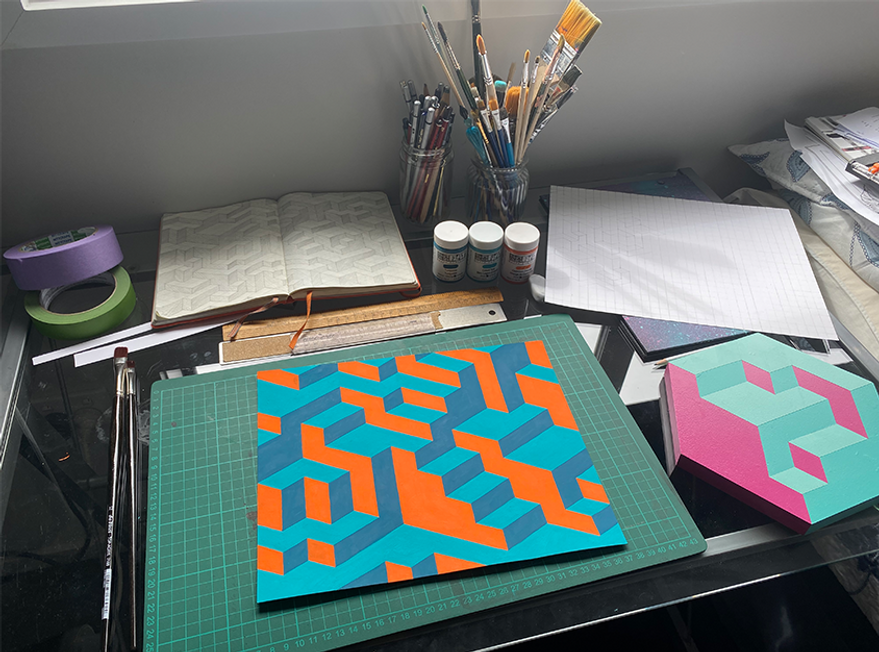 Can you describe your studio? What are your favourite things about it and what can't you live without?
Over the past few years, I have had the opportunity to use WINTEC's student spaces which I have used almost daily, this space is a mere 3.6m by 2.4m but it is exactly what a student artist needs, a couple large desks, a shelving system and wall space to hang work! Unfortunately, due to my time at WINTEC ending, I then had to pack up my studio space, so I am currently between studios and have all my equipment and paintings stored ready for the next space. Some things I can't live without is a good shelving unit, I'm a bit messy when it comes to my art supplies so a place to store everything is very important. I also have these custom made T-squares that I have set at 30 and 150 degrees, to ensure my grids are all parallel, an important tool for my art practise.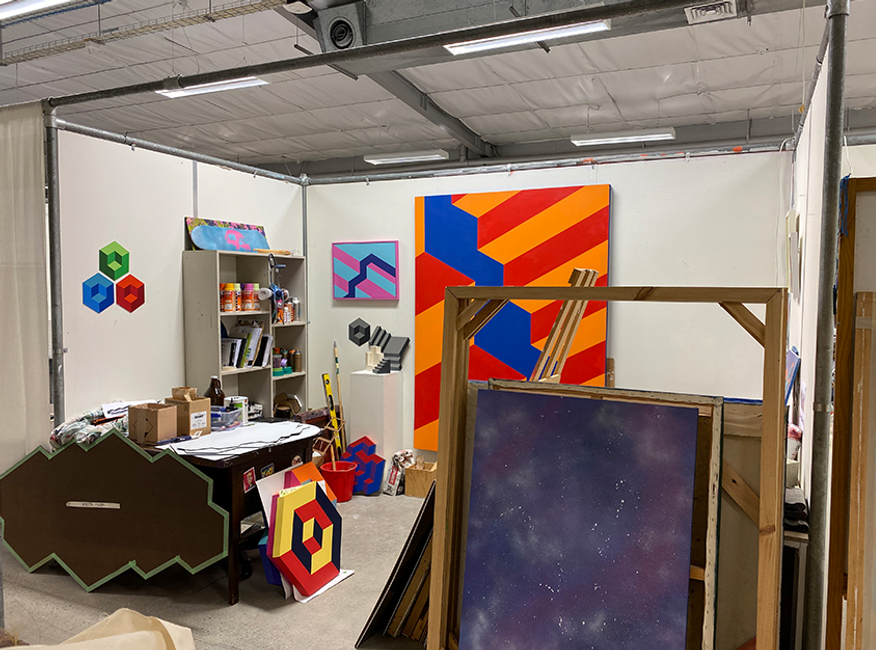 What supplies are currently on your Gordon Harris wish list?
An item on my Gordon Harris wish list is one of those convertible easel's by MABEF, I currently have a temporary makeshift easel out of some spare timber, so a MABEF M08 is absolutely on the wish list. Also, Molotow Premium, I can't get enough of these spray paints!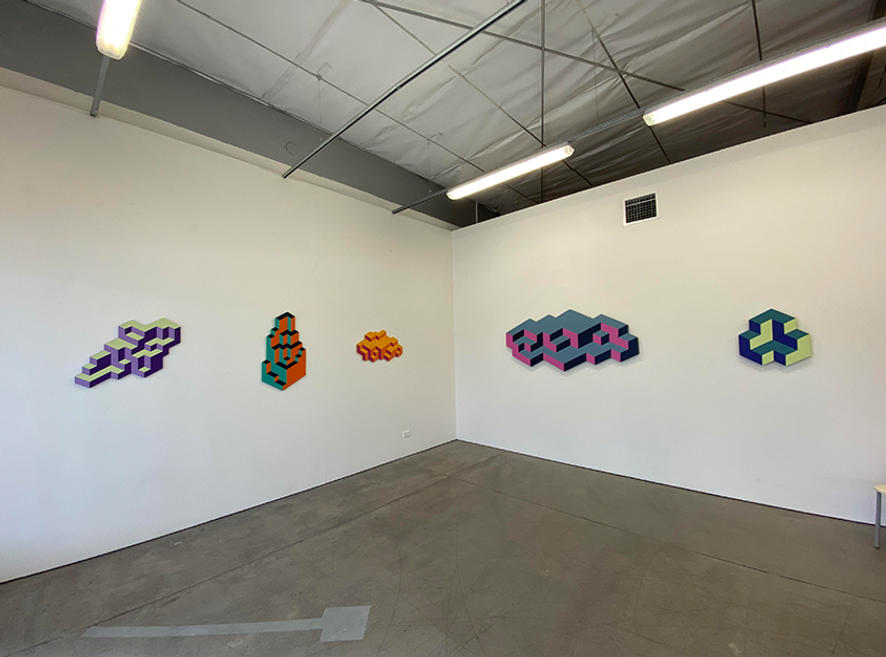 What are your top tips on how to scale your work from canvas to a wall for your murals?
Math can be tricky sometimes but it's necessary in my case, otherwise a projector can be super useful! Luckily, I tend to use the same formula when drawing in my book and refining on illustrator so it's just a matter of scaling up, on one of my last murals it just so happened that the bricks were the same scale as my grid system, so I was able to connect the dots. A useful tool to use when creating large scale geometric murals is a chalk liner, with this I can create a large grid on the wall then use as a reference to draw up my design. Top tip, measure twice.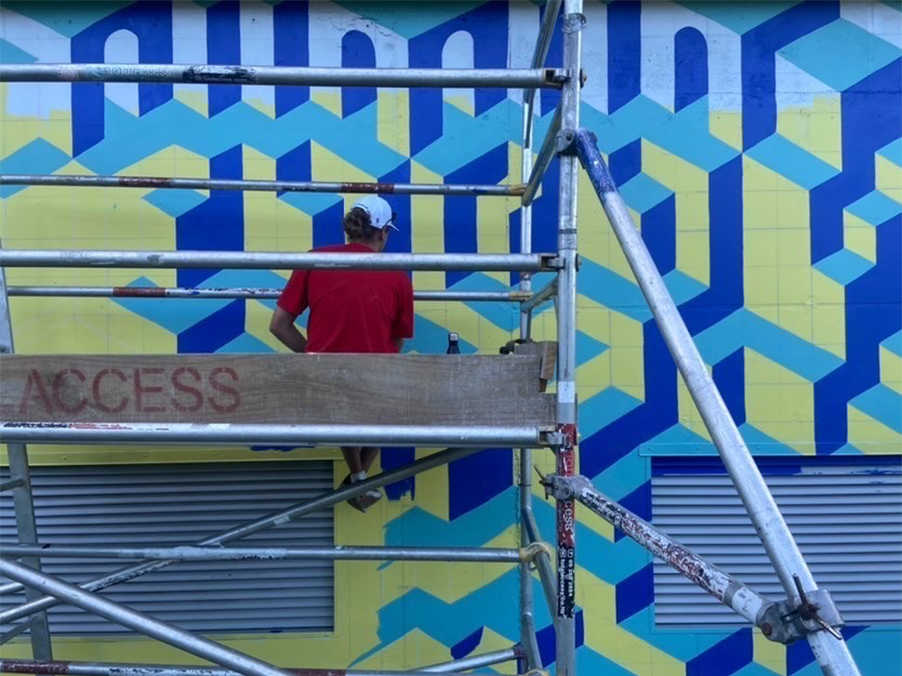 Who are your art influencers? This can be historical and contemporary
I have always admired M.C. Escher's illustrations, I found myself attempting to draw his "Relativity" piece a lot, I was so intrigued with the impossibility of these people walking upside down on these stairs, I also loved his piece titled "waterfall" which represents the impossibility of the Penrose triangle. Another artist I constantly look up to is American artist, Paul Kremer, I love his minimalistic colour palettes and his subject matter. I am also incredibly influenced by the op art movement and artist such as Victor Vasarely, who used geometric forms to create optical effects on a flat surface, his work was very capable of manipulating our perceptions which I find really intriguing.
Can you tell us where people can find your work.
You can always find me on Instagram, @tapp.art, where I have been posting all my refined paintings over the years. But I also have a Facebook page that it is linked to, @xavtapp.art. I have a mural down Liverpool St in Kirikiriroa and I have another mural on the University of Waikato campus on the side of the Library Building if you ever want to check those out in person!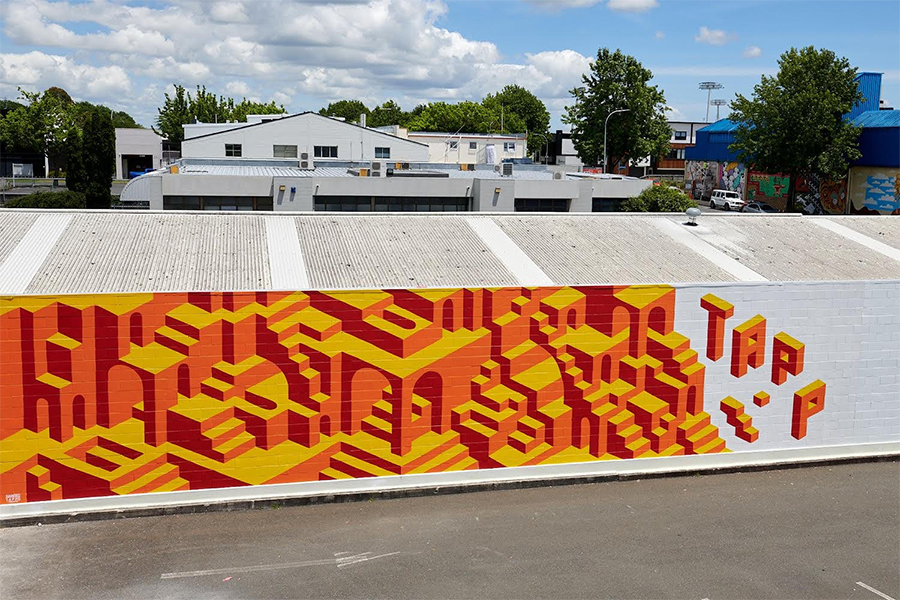 What have you got planned for the future?
The future, I'm taking every day as it comes really, not too sure what the future holds but I hope to be doing many more paintings projects and of course some large-scale murals if I get the opportunity! I'm going to be spending some time this year getting into sculpture, I feel like my work has the potential to translate well into the third dimension and I'm excited to get into some sculptural illusions.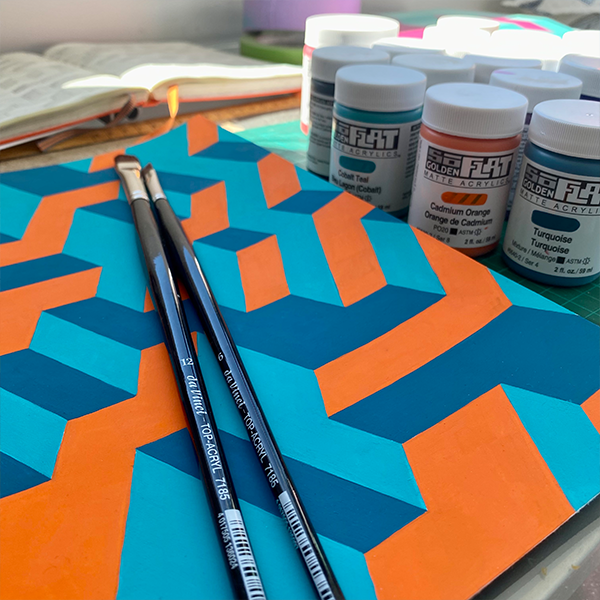 Check out Xaviers Process Video here