Gordon Harris Artists: Jaymesh Master
A conversation with Wellington-based artist Jaymesh Master where he creates large-scale hyper-realistic drawings using ink, pen and more recently pencil.
Can you tell us a bit about your art practice and how you got to where you are now?
I am Jaymesh Master, a Wellington-based artist, born in New Zealand. I am completely self-taught in my practice and create large-scale hyper-realistic drawings using ink pen or (more recently) colour pencil. High-end fashion, designer sneakers, lollipops, and iconic pieces from pop culture are a selection of subjects that have been used throughout my works, reflecting a fascination with colours and textures as well as a social definition of objects.
I like to draw attention to small details that are often overlooked. When you're an Artist you become a very keen observer and you notice really subtle reflective light and changes that inform tone and colour. It's a challenge for me and I enjoy that. There's always more to learn once you master something and I believe you can improve your skills really quickly if you give it enough time.
Image: Jaymesh Master in his studio
Where does making an artwork begin for you? Can you take us through your process?
Each of my pieces starts with a photograph, where lots of effort goes into securing each object I plan to draw. The photograph is then printed on paper at roughly half the size of the finished piece. I then complete a really loose outline as a vague guide of what's going on, using a traditional grid technique to scale up the image onto my favourite cotton paper from Arches. It's almost like a colour by numbers from there, starting off rough at the beginning and then building up closer to the colour, layer by layer. Various techniques are applied using colour pencils to create vivid details within each layer.

Image: Jaymesh Master, State of Deflation in progress, 2022, colour pencil, 500 x 500 mm
How do you decide on your subject matter?
I like to keep my subject matter really fun and playful and keep it minimal to focus on a single object and amplify complexity in the smaller details. I think as an artist it's your job to provoke and inspire, it's the reason why I make my art for the concept. When it is out in the wild, that is where the viewer has full creative license to interpret the art for themselves.
Rather than existing exclusively as impersonal subject matter, I also integrate a subtle human presence that is implied, but never obvious into my drawings: an unwrapped lollipop; a deflated balloon; or a crushed aluminium can. For me, it's always been important to put out a concept where people can take away their own interpretation.
Image: Jaymesh Master, Lily, 2021, colour pencil, 760 x 1020 mm
What are your must-have artist tools and why?
First and foremost, Arches Paper, it's toothy, 100% cotton, and acid-free. It's all the qualities I need in terms of longevity. The 640gsm paper doesn't bend and buckle too easily, which is great for durability and especially for artworks that take time to create.
I use a range of different colour pencils and one of them being Prismacolor Premier Coloured Pencils. They offer a wide variety of colours in their sets and open stock. These wax-based pencils, make them great for covering large areas, filling in gaps, and blending colours.
Finally, a good fixative spray to preserve your artwork for the future. This protects your work from accidental smudging and provides an extra level of protection. I have recently started using Schmincke universal fixative because it also offers a degree of UV protection.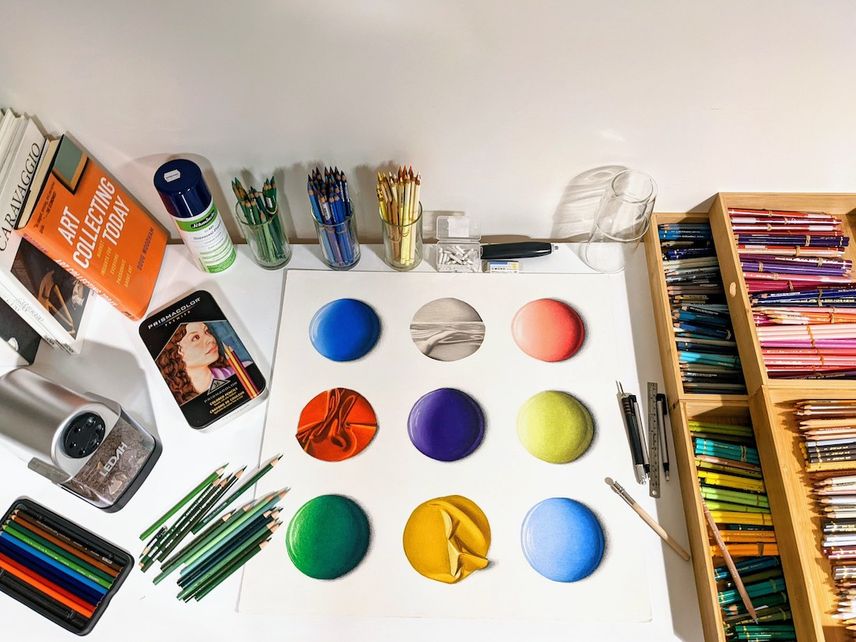 Image: Jaymesh Master's workbench
Can you describe your studio? What are your favourite things about it and what can't you live without?
Designing my own studio space provides a blank canvas, to which I am grateful and lucky to be able to colour with my experiences, my artifacts, and tools of the trade arranged to inspire and unleash the artist within.
My favourite things include a comfortable chair for reading in the morning when I wake up to a warm cup of coffee and a good book with a blanket and a small couch for a kickback. I can't live without my easel and long wide desk since this is where I spend half my time drawing, researching, and editing photos. And last but not least, a handful of my completed drawings are up on the wall or around me, to remind me of my journey as an artist.
Image: Jaymesh Master's studio
What supplies are currently on your Gordon Harris wish list?
The one item that comes to mind would be a roll of Arches hot pressed paper roll. I would love to aim high and go larger than the usual sheets that I am normally drawing with.
Image: Jaymesh Master, Pop Heart, 2020, colour pencil, 1050 × 760 mm
What are your top tips on how to create realistic artwork?
There is a lot of content on the internet now that can help ANYONE learn realism from scratch. I would suggest starting with YouTube tutorials, it's a quick way to visually learn the essentials and build up confidence as you progress. Then, practice, practice, and practice!
Layering is a technique that helps create details to appear more vivid in my artwork. When layering, I have used about 20 different shades to just make one colour. It is important to be patient with yourself. In case you are not overdoing it or need to make any tweaks along the way, take breaks to step back and observe the drawing as a whole. - it helps to make sure you are going on the right track.
To create highlights and shadows, you can apply different amounts of pressure with wax or oil-based pencils to create the desired effect.
Image: Jaymesh Master, Eight Ball in progress, 2021, ink pen, 210 x 297 mm
Who are your art influencers?
In the beginning, Robert Longo without a doubt was the biggest inspiration for me in terms of starting the drawing process. Jeff Koons is also a really fascinating artist, I like him because of his enthusiasm for his subjects and his deadpan, cheesy manner. To be honest, I think he is the core of why my art can exist in a way that makes sense to me.
When I am thinking about the rockstars in art history, I think of the late Titian. Titian is such a spectacular artist, but I admire him as a designer. Design is very important to my work and the use of composition throughout his works is just so important to how it functions as artwork and tells a story. I find that ever so fascinating.
Can you tell us where people can find your work.
My website is currently a work in progress. However, you can join me on my journey and follow new artwork on my Instagram. I recently created a TikTok account to share any new techniques I am learning.
Image: Jaymesh Master, Solemate|GUCCI, 2018, ink pen, 2000 x 1130 mm
What have you got planned for the future?
I am taking part in the NZ Art Show in Wellington this year and there I will be exhibiting a selection of my works in June. Later in the year, I will be planning an exciting collaboration and hope to work towards a solo exhibition.