Home

/

ESSDEE PROFESSIONAL INK ROLLERS
ESSDEE PROFESSIONAL INK ROLLERS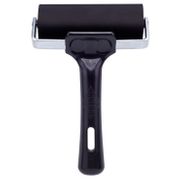 With a circumference of over 122mm, this heavy weight roller holds a greater level of ink than standard rollers, and covers many uses. The ground concentric surface gives excellent pick up and deposit, making this the tool of choice for the artisan.
The rubber material is medium hard with good recovery from indentation, resistant to common printing chemicals - a first choice for wood engraving, wood cut and lino print.
- Easy clean polypropylene handle
- Built in rest
- Rigid frame
- Nylon self-lubricating bearings
- Rubber roller can be wiped clean lightly with turpentine or other solvents when working with oil-based inks but some black colour may transfer to the cleaning cloth. Do not soak the rubber roller in solvents. Cooking oils can be used as an alternative cleaner to solvents.