CANVAS & PANELS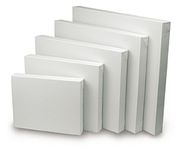 We stock a huge range of artists' canvas; stretched canvas, canvas panels, canvas pads, canvas by the roll and by the metre, canvas stretcher bars and stretching tools.
There is some truly awful imported stretched canvas posing as "artists' canvas" on the market. Our Gordon Harris EXPRESSION range of Stretched Canvas is carefully selected to balance low price with good quality. It's made from 100% cotton with a tight, even weave and is triple coated with good quality gesso. For the discerning painter the surface can be improved even further with a coat of one of the high quality Gessos made by Golden, Pebeo or Schmincke we stock.
For artists seeking true gallery quality stretched canvas, our STRETCHED WITH LOVE range is stretched right here in NZ using only the highest quality materials - and love!
Why invest your time and paint, painting on an inferior canvas. Buy your artists' canvas with confidence at Gordon Harris.