Home

/

DA VINCI CASANEO WATERCOLOUR BRUSH
DA VINCI CASANEO WATERCOLOUR BRUSH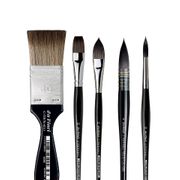 Casaneo is unique, and provides exciting possibilities for artists working with fluid colours.
Casaneo is a synthetic fibre brush that is almost indistinguishable from squirrel hair! Being synthetic, Casaneo can be used with liquid acrylic colours, such as Aerocolor, High Flow and India ink.
Casaneo allows floppy, fluid liquid painting techniques previously the preserve of watercolour: the fibre holds a huge reservoir of colour behind a superfine tip, and (cleaned with da Vinci soap) is perfectly suited to use with liquid acrylic colours.
Casaneo can also be used with watercolour.