Home

/

DA VINCI COSMOTOP SPIN BRUSHES
DA VINCI COSMOTOP SPIN BRUSHES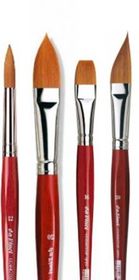 These very popular blended fibre brushes suit many types of paint and painting techniques; fluid & soft-body acrylics, watercolour & gouache, oil colour, inks, and silk-painting.
Cosmotop-Spin's extra-fine fibres are soft but with great flex and fine edge for excellent control of fluid colour. The short, red, hexagonal handles are well balanced and comfortable to hold.
Da Vinci's unique blended fibre technology mimics the properties of natural hair, creating brushes with superior fluid-holding capacity and excellent flow control.