Home

/

DA VINCI BRISTLE BRUSHES
DA VINCI BRISTLE BRUSHES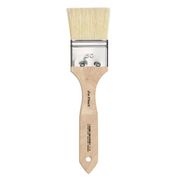 Bristle brushes are robust enough to resist wear on abrasive surfaces like canvas, absorbent enough to wipe back layers, and yet good quality bristle is soft enough to respond to delicate strokes.
Good quality bristle will have "split ends" called flags, so although the edge of the brush may look slightly fuzzy, this is a good thing – the flags are what hold the paint.
Bristle is the work-horse of oil painting, with the rule of thumb being: when the surface is dry, use bristle brushes; when wet, use soft brushes. Bristle brushes can be used for acrylic also, however acrylic paint is more difficult to clean from bristle than from synthetic fibres.