Home

/

TOMBOW FUDENOSUKE PENS
TOMBOW FUDENOSUKE PENS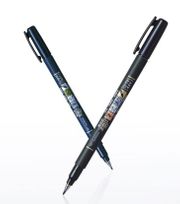 Fudenosuke Brush pens have flexible brush tips allowing easy transition from thick to thin lines by changing pen pressure.
The special elastic pen tip gives artists & calligraphers the ability to control strokes with precision.
Create extra-fine, fine or medium strokes by a change in brush pressure. Great for calligraphy and art drawings.
Available with Hard Tip or Soft Tip
Barrels are made of recycled polypropylene plastic.
Water-based, pigmented ink.
Odourless.
Non-refillable.
For best results use on smooth untextured papers