Home

/

DA VINCI CASANEO MINI BRUSHES
DA VINCI CASANEO MINI BRUSHES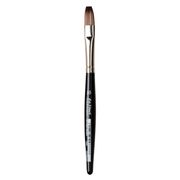 Due to their compact size, these brushes are ideal to be used while travelling, and are versatile for all fluid acrylics as well as watercolour.
Watercolour brush made from extra soft sythetic. Extraodinary elasticity and an extremely high colour absorbing capacity.
Perfect for artists working in fluid acrylics as well as watercolour.
Squirrel hair holds the most fluid of any fibre yet is so delicate it can only be used with watercolour… such a shame… but the Casaneo, which performs and looks like squirrel, holding a vast amount of colour behind a razor-fine tip is synthetic so the floppy fluidity associated with squirrel can now be used with acrylic inks like Schmincke Aerocolor, Golden High Flow and India inks.