Home

/

MOLOTOW SKETCHER MARKERS
MOLOTOW SKETCHER MARKERS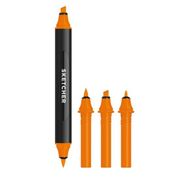 Sustainable, innovative and aesthetic - A new era of Twin Marker. The Sketcher Twin Marker, consists of 95% recycled plastics, and thanks to a cartridge exchange system, up to 56% of plastics can be avoided when buying a new cartridge instead of a complete marker. This means 10.6g less plastic!
With 120 colour shades and 3 different tip shapes available (round, chisel and brush) illustrators, graphic designers and artists can create more than 60.000 combination possibilities!
The sophisticated AquaPro ink has a rich and deep colour brilliance and a good UV resistance. It dries as quickly as alcohol-based inks and there is almost no bleeding of the ink.
IN STOCK NOW AT GORDON HARRIS NEWMARKET STORE, AND ONLINE.