Home

/

PLASTALINA NON-HARDENING MODELLING CLAY
PLASTALINA NON-HARDENING MODELLING CLAY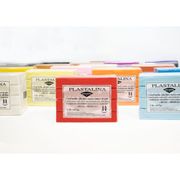 This pigmented, oil-based modeling compound is a favorite of sculptors, model makers, clay animators, and artists of all ages.
The clay has a smooth consistency and brilliant color range. Mix colors with ivory and white to obtain tints, with black to achieve shades, and with each other to achieve intermediate hues. Model with the hands or with clay tools for fine detail.
Van Aken clay never hardens. It remains pliable and plastic, and it can be used over and over. In fact, its consistency improves with age.
Non-Toxic
Sulfur-free
Reusable / Non-hardening
Smooth consistency
Made in U.S.A.
Project ideas are not limited to: Claymation, Sculptural prototypes, Figurines, School projects, Clay paintings, Moulds for silicone rubber.
Do not bake in oven.