COMPANY PROFILE - Celebrating 45 Years!
Kiwi and Family owned since 1975

Gordon and Ann Harris outside the original Greenwoods Corner, Auckland shop circa 1975.
45 Years in business is a big milestone for any company. The Harris family owners and staff of Gordon Harris are extremely proud that their business has not only survived four decades but grown from humble beginnings to become NZ's largest and best known art supplies specialist.
Gordon and Ann Harris established their art supplies business in a small shop at Greenwoods Corner in Auckland in 1975. Gordon already had many years experience supplying the needs of professional design, advertising and art studios. He believed that an outlet that supplied quality artists' materials to the general public as well as professionals was required.

Gordon Harris Art Supplies thrived and soon moved to larger premises at 4 Gillies Avenue, Newmarket, then a distinctly unfashionable but always convenient area, where we are still located. In 1991 Gordon took up the opportunity to purchase Littlejohns, a long-standing art and graphic supplies business in Wellington. The Littlejohns name was changed to Gordon Harris in 2003.

To better service the growing number of art and design students at the University of Auckland, AUT and other inner city colleges we opened our Symonds Street store in 2000. This was followed by new stores in Albany and Hamilton in 2004 and Christchurch in 2006.
The Gordon Harris webstore opened in 2011 and has been well supported by customers from Kaitaia to Invercargill.
Our product range has grown over the years too and includes many famous international brands from the world of art and design materials as well as lower cost items. Our selection of graphic design books and art technique books is second to none in New Zealand.
There is no doubt that products and materials can help inspire artists and designers and we strive to provide a selection, environment and experience to help stimulate your creativity.

Talented and dedicated staff play an enormous part in the Gordon Harris experience. We are fortunate to have retained many staff members for between five and twenty-five years. With many of our people being artists and designers themselves we have a deep pool of knowledge and expertise to call upon.

Gordon Harris - The Art & Graphic Store is proudly New Zealand owned and operated by the Harris family. Graeme, Caren and Bruce Harris are committed to Gordon's original vision for the business: To deliver quality products, value for money and professional, knowledgeable and friendly service.

So come visit us and be inspired.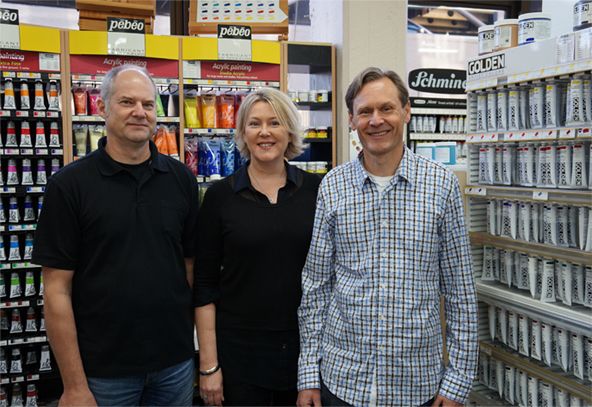 (From Left) Bruce, Caren and Graeme Harris are the 2nd Generation owners and managers of Gordon Harris Ltd.