Home

/

NEW from Hahnemuhle: Harmony Watercolour Paper & Pads
NEW from Hahnemuhle: Harmony Watercolour Paper & Pads
NEW from Hahnemuhle:
Harmony Watercolour Paper & Pads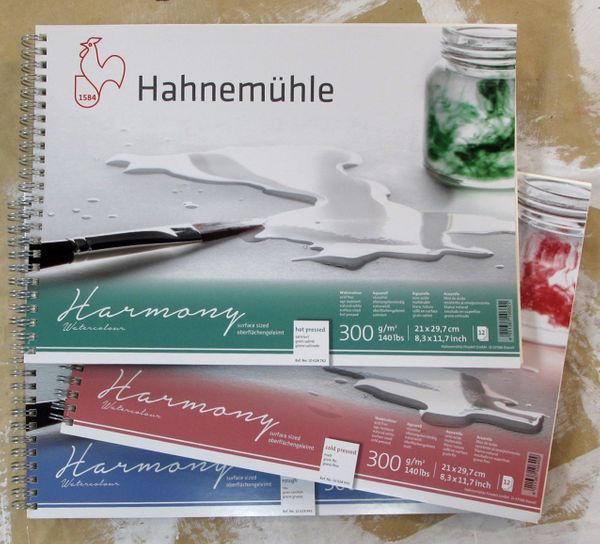 Harmony Watercolour is a brand new watercolour paper from one of the world's oldest paper mills. Although this natural white paper can be used for all wet painting techniques, Harmony is surface sized, which makes it especially suited to watercolour painting.
Surface sizing allows very specific control of watercolour, so wet colours can be easily corrected or taken off, and colours stand out excellently on the paper. Masking fluids or masking tapes can be used and removed residue-free.
Harmony's very reasonable price makes it ideal for students of watercolour, offering a nuanced surface than Hahnemuhle's popular Britannia paper, while being noticeably more affordable than pure rag papers.
Award winning illustrator and teacher Sandra Morris said "Harmony is an ideal student watercolour paper, particularly for fine detail work like botanical on the Hot Press. I will be recommending it to my students"
Harmony Watercolour paper is acid free, light resistant and archival. It is available in Cold Pressed, Rough and Hot Pressed surfaces, in 50x65cm sheets, A4 and A3 spiral-bound pads.
Harmony is available in Hot Press (left), a smooth surface for detail painting such as botanical work, and for delicate washes; in Cold Press (middle) for painters wanting a slight, irregular surface for general painting techniques; and Rough (right), which offers a pronounced irregular weave that emphasises the effects of granulating watercolours.
The surface sizing makes lifting colour much easier (left) and the surface more durable to use with masking fluid (middle) and erasure. The spiral-bound pads are convenient for working with, and a couple of small clips on the open end help with sheet stability when using lots of water.