Home

/

NEW! Aerocolor Candy from Schmincke
NEW! Aerocolor Candy from Schmincke
NEW from Schmincke - Aerocolor Candy
Schmincke have made a limited release of 12 Candy colours in their Aerocolor Acrylic Ink range. Candy are extremely transparent, brilliant colours, still with the same adhesive and lightfast properties of standard Aerocolor.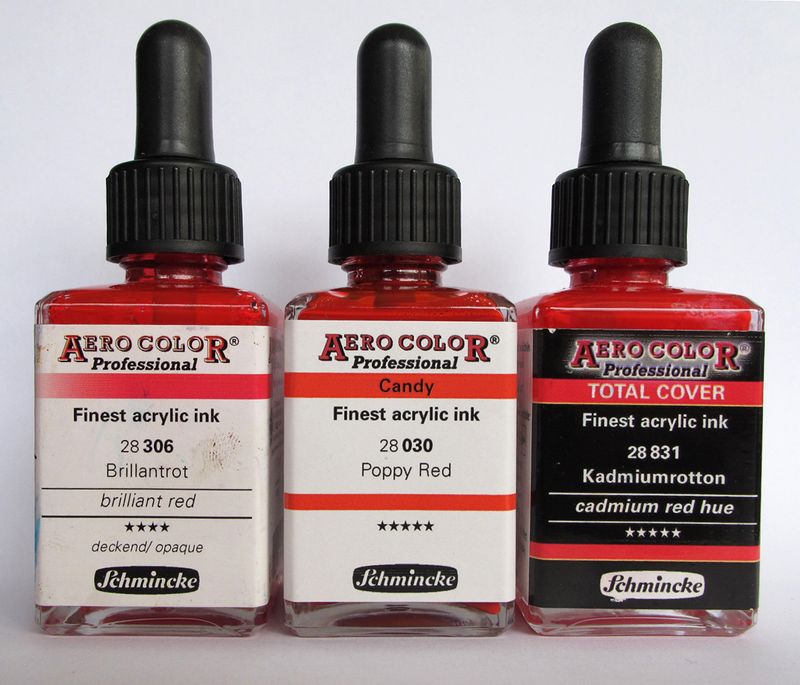 Following last year's release of the 12 fully opaque Total Cover colours, Schmincke has taken these new colours to the other extreme – Candy have the full transparency of an illustration ink, and go down nice and flat. It is easy to achieve very even colour, and outlines can be clearly read through the colour layer; yet unlike an illustration ink (Colorex, W&N Drawing Ink, Ecoline), Candy are highly lightfast, even in weak dilution. They're waterproof, and can be used on almost any grease-free surface, including paper, canvas, wood, plexi-glass, and over acrylic paint. When diluting past 50% and using on a non-porous surface (primed canvas, acrylic paint, etc), add some AeroMedium SC50602 to your water to ensure good adhesion.
Candy are unique colours, such as (left) this Poppy Red showing off its intensity, and Smoke Black, a transparent black nicely revealing the gesso lines underneath. Comparing the Candy with the Standard and Total Cover colours (right), you can see the varying transparency/opacity available across the Aerocolor range: Candy at the top, standard in the middle, Total Cover at bottom.
Aerocolor Candy offers extreme brilliance and transparency for artists working with liquid acrylics and inks.
Note on the Total Cover Aerocolor
Total Cover are an opaque Aerocolor that dry to a velvet matte surface. The special binder used to produce high opacity in such a liquid colour does not have the tensile strength of a gloss or semi-gloss binder, and in thicker applications (for instance, a generous brush load or free pour) the surface can produce fine cracks on drying. This does not affect the adhesion, and can be corrected by adding a small amount of AeroMedium to the colour before use.