PEBEO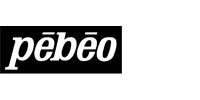 Pebeo, based in Provence, France, is a family owned manufacturer of colours and accessories for artists around the world. Founded in 1919 by Claudius Chaveau, Pebeo has handed down its passion for the alchemy of art from father to son. Robert Chaveau placed the emphasis on creativity and quickly became noted for his innovations in paints and materials for fine art, graphics, craft and education.
Pebeo's ongoing research, combining the talents of chemist and artist, allows Pebeo to be recognised as one of the most creative companies in paint manufacturing.
Gordon Harris stocks the largest range of Pebeo paints, brushes and accessories in New Zealand, both instore and online.