FREDRIX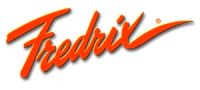 Fredrix® was founded in 1868 by E. H. Friedrichs, who based his canvas manufacture on the highest quality standards of European master craftsmen. 153 years later, Fredrix canvas is synonymous with his original vision of master-quality canvas and integrity of the manufacturing process.
Fredrix knows exactly what goes into their products, sourcing high quality cottons from around the world, producing their own primers (gesso) and applying them to canvas in the Fredrix factory just north of Atlanta, USA. All of the Fredrix acrylic primed canvases are animal bi-product free, specially prepared with an acid-free acrylic titanium gesso to ensure you have the best possible painting experience.
Fredrix canvas is designed for use with oils, acrylics, water soluble oils, paint markers, permanent markers, spray paints and alkyds.