PANTONE GUIDES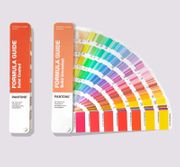 Gordon Harris offers an extensive range of the official PANTONE colour guides, including the popular colourbridge guides and essentials sets with coated and uncoated finishesm and a specialised guide for fashion & interior design.
PLEASE TAKE CARE WHEN SELECTING WHICH GUIDE TO BUY - WE CANNOT ACCEPT RETURNS IF THE PANTONE PACKAGING IT ARRIVES IN HAS BEEN OPENED.
To assist you in your selection of the correct guide:
PMS Formula colour – guides show colours achieved by mixing all base inks 'spot or solid' colours (pastels, neons & metallics are PMS too). NEW 2022 RELEASE, 224 NEW COLOURS!
CMYK Process 4 colour – guides show colours achieved by layered % screens of the 4 Process inks (Cyan, Magenta, Yellow & K Black)
Colour Bridge – combines both Formula & CMYK colours side by side to show the closest match to each
Fashion, Home and Interiors Guide – uses non PMS codes for specifying fashion, textiles and interior colours
Coated & Uncoated is the paper stock the colour is printed onto – Coated is shiny and Uncoated matte/flat