Gordon Harris Artists: Jasmine Kroeze
A conversation with Papamoa based multi disciplinary artist Jasmine Kroeze where she takes us through her art practice and her must have Gordon Harris Products.
Can you tell us a bit about your art practice and how you got to where you are now.
I'm Jasmine Kroeze, an artist and all round mess maker! I paint original artworks and large scale murals.
My background is in fashion design and I learned the ins and outs of textile and print design through working in various fashion brand design rooms. Textile design has been the biggest influence on my style and I still adore creating digital art in the form of fabrics, surface patterns and art prints.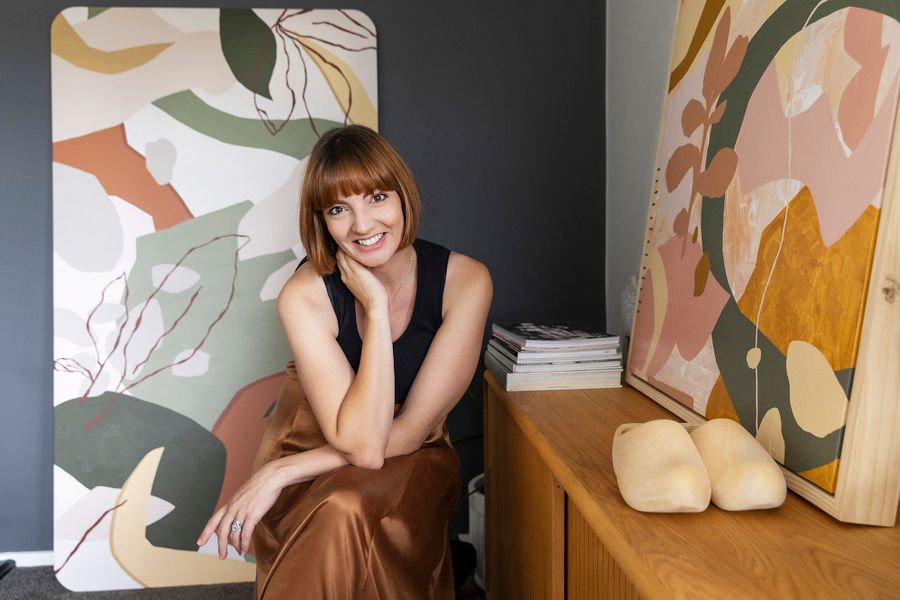 image is by Casey Creative
Where does making a painting begin for you? Can you take us through your process?
My process starts with cutting out shapes from coloured card and creating hand drawn marks with my favourite Tombow art brush pens. Once I've created a bank of shapes and elements, I bring them into Illustrator and play around with composition, scale and colour. I like the flexibility of being able to change things quickly as it's all digital at this stage.
Once I am happy with the composition, I use that as my starting point for my painting. My under paintings are completely intuitive and a whole lot of fun to create. Once they are dry I usually take note of the areas I like and then begin building layers from there.
How do you decide and choose the colour palette for each painting?
I have a strong base palette that I always seem to begin with, lovely warm tones of terracotta and peach. Then build a couple of hero colours onto that. I seem to work a lot with earthy shades and find I'm drawn to more feminine colours compared with the high contrast, bright tones I used to work with!
What are your must have artist tools and why?
Hands down some Golden molding paste or fibre paste which I use to create a layer of texture before I begin my under paintings. It gives so much interest and it's fun to use!
I also use a rubber squeegee to create my under paintings. Usually they are used in textile screen printing, but I love working on big canvases and boards so I adore the way the paint doesn't blend the way it would with a brush.
My go to brush for finer details are the Da Vinci Junior brushes. I'm a bit mean to my brushes and they are hard wearing and economical but still lovely and soft. Also the tri grip is super comfortable with a full studio day!
Can you describe your studio? What are your favourite things about it and what can't you live without?
My studio is situated in our humble garage. My clever husband helped me create a faux wall which I can hang a bunch of boards on, along with my easel.
The natural light is key for me, the sun streams in from the window and on fine days I open the garage door and often get lots of people coming to chat as they head on the way to or from the beach! I can hear the waves too, so I sometimes avoid putting music or podcasts on for some good nature inspired flow.
I've designed my business to run in a way that works for my strengths and personality. I'm an introvert living in a house full of extroverts so my home studio is my happy place, it's calm and peaceful and where I go to re-energize.
What supplies are currently on your Gordon Harris wish list?
Ohhh so many! I would love to upgrade my easel to a Mabef Studio easel, which will give me more stability since I like to paint so big and the wheels would super convenient!
I'm constantly filling sketch books with marks and elements so a new Moleskine is often on the list!
Finally, I love signing my work with Posca pens, so adding to my growing collection is slightly addictive! It's a bit of a ridiculous addiction buying pens just for signing my paintings!
Image is by Olive Holland.


Who are your art influencers? This can be historical and contemporary
The later works of Henri Matisse and his colourful paper cut outs are incredibly inspiring. I also adore how he was being challenged physcially by his painting and sculpting practise that he explored other mediums.
Contemporary artists that I am inspired by, would have to be Alex Proba and her sculptures she created for Tomorrow Land. Her work as a whole is super inspiring from her murals and painted pools to her interior and homeware collabs.
Across the ditch, Ashleigh Holmes is crazy talented and her work is just so beautiful. Soft, textural abstracts and very feminine.
And of course our very own Jen Sievers. I really love how she has carved out her own style and you can see how she's explored so many avenues and seeing her signature landscape style emerge over the years is really inspiring.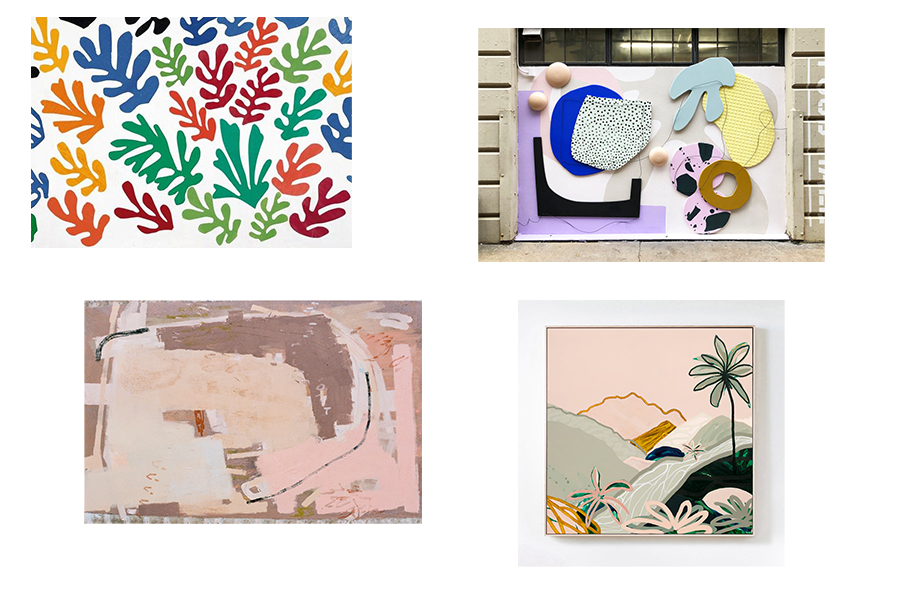 Can you tell us where people can find your work.
You can find my work on my website www.jasminekroeze.com and a bit more of behind the scenes and what goes on in my studio on Instagram.
What have you got planned for the future?
I'm due with my second baby in March so that will keep me busy for 2022! Then I'm looking forward to easing back into the studio when I feel the time is right. Initially I'll focus on getting back into the creative flow and paint with no pressure for an end product.