Gordon Harris Artists: Hannah Truly from Paper Scssrs Art Studio
We sat down (virtually) with Wellington based creative Hannah Truly from Paper Scssrs Studio to discuss her creative process and how she fell into making her delicate and very realistic paper flowers.
Watch Hannah's Master Class on how you can create your own bunch of paper flowers for the upcoming gifting season here.
Can you tell us a bit about your art practice and how you got to where you are now?
I've always been a creative type and have explored many different mediums and often found that flowers became the subject of my art whether it was a painting or a film or creative writing, there is so much I find so fascinating about flowers from their form and colours, to the different way they grow and have various uses, to the way they appear in culture and how we utilise them within the human experience. Past experiences made me want to adjust where I was putting my energy, especially after having my daughter, it seemed bespoke handcrafted homeware for a collector culture was going to be a better fit for my lifestyle and more aligned with what I wanted to be putting out into the world.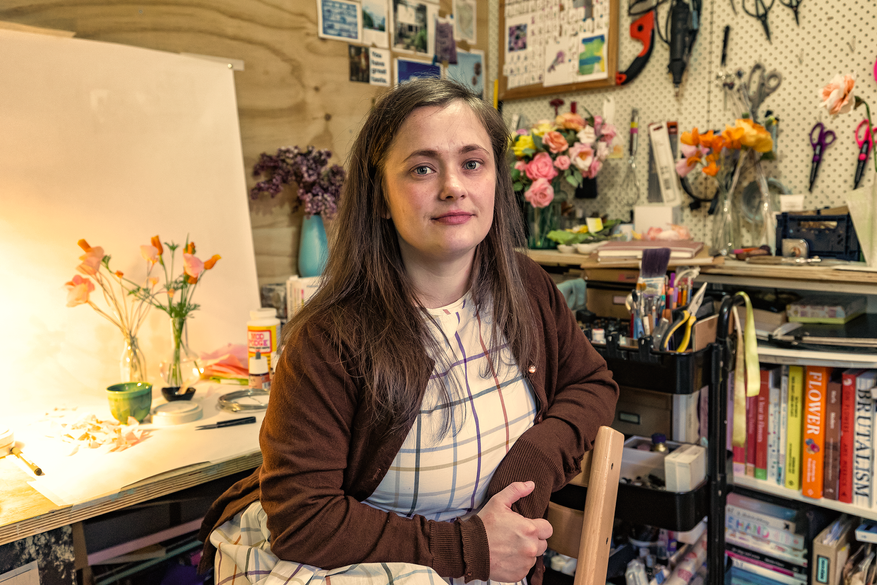 How did you fall into making paper flowers?
I was needing a new challenge and wanted to expand the mediums that I was using, I had also moved out of the city and had a garden which gave me more access to flowers than I had being in the city. It became easier to observe the forms of flowers and how they might fit together, and how they might fit if they were made of paper. Once I started it the challenge became quite addictive and it all blossomed from there. Tiffanie Turner's book "The Fine Art of Paper Flowers" was particularly helpful in giving being an ideal guide to starting paper flowers and the inspiration to go so much further.
Where does making a flower begin for you? Can you take us through your process and steps?
I'll usually begin a flower which I have seen recently or have a cutting of so that I can try to copy the true form as closely as possible. Sometimes I'm creating something out of season which starts with collecting as many photos of the flower so I can see it from all angles. Then all the paper is prepared by cutting strips to the size of the petals and colouring the papers. Then there is a lot of cutting and shaping until everything can be glued together to create the final piece. It isn't as simple as it sounds, there are a thousand little steps to creating every inch of the flower, some can take a few hours, other can take weeks to finish. As someone who also has ADHD I don't have a prescriptive formula I use to create the flowers, sometimes the starting point for one flower may be the petals and the next time I come to make the flower I'll start with the foliage instead. It certainly can be done as a precise and mathematical art form but I tend to rely on instinct and feel which I think can help the flowers feel more organic and natural.
What are your must have artist tools and why?
Gordon Harris supplies a wide range of materials I use to create my flowers. I love the Pebeo Colorex watercolours, there are so many colours to choose from and they absorb so well into the papers I use. I use the Pebeo Gouache a lot to add additional colouration often to the leaves of flowers, and is my first choice when painting. Mod Podge is a must have, I learnt my lesson last lockdown not run out of this stuff so I always make sure I have plenty on hand. Winsor & Newton Paintbrushes are a must have, the finer the better for the tiny details. And books, all the books!
Can you describe your studio? What are your favourite things about it and what you can't live without?
My studio is a shed that my dad and I spruced up so that it could function as an art studio. Before it was half complete and came with a dog bath which was torn out to create more floor space. I have two rooms, one where my desk and tools are and the other whether I keep flower vases and can set up as a little photography studio. The best thing about it is that it is here, there are not many rental homes available that have additional shed space, especially that can be converted. As quite an introverted person it is a sanctuary I can escape to when all my people are a bit too much. I could not live without this space, if I did, I would be miserable, so I am incredibly grateful to have it.
Who are your art influencers?
I have so many people who influence and inspire my work and life, it is an ever-growing list. Some notable mentions would be Tiffanie Turner, Yayoi Kusama, Sofia Coppola, Baz Luhrmann, Ulrike Lea Moormann, Yoshitomo Nara, Wife NYC, FLWR PSTL, Manu Torres, Kristen Griffith VanderYacht, Rihanna, I could go on.

Can you tell us where people can find your work?
At the moment I can be found on Instagram @paper.scssrs enquiries can be made through DM. We're working on getting some exclusive bouquets and single stems available through a lovely Wellington business and will be launching a website in the near future, keep your eyes peeled on IG to be in the know.