Watercolour Sets: painting anywhere, anytime!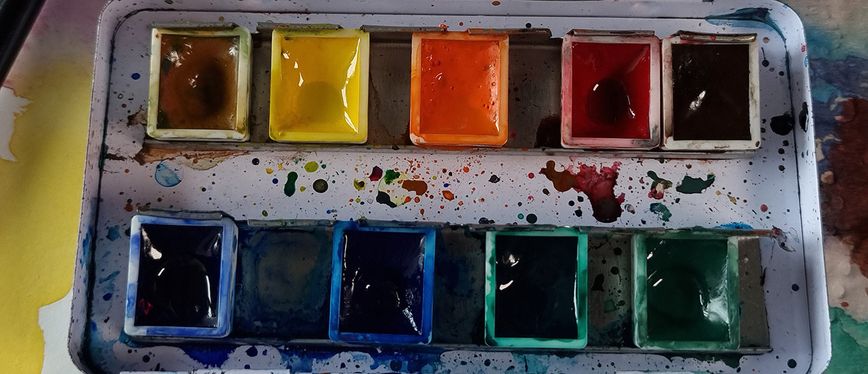 Watercolours are easy to set up and pack down, making them the perfect portable paint and for those of us with busy lives. Most watercolour sets contain "pans" of solid paint that lifts off with a wet brush giving us instant colour. And price per painting, a watercolour set delivers the best value of all!
Watercolours can be fresh and spontaneous or studied and layered, to suit your style. Let's have a more in depth look at some of our most popular sets.
Pebeo Watercolour Sets come in a distinctive circular tin box with a collapsible brush and mixing trays, as well as in the more traditional rectangular tins. Pebeo Watercolours are exceptionally good value, providing bright colour that lifts easily from the pans, and are a great introduction to the joys of watercolour.
Winsor & Newton Cotman Watercolours are good quality, transparent watercolours with an excellent tinting strength and working properties at an economical price. Pan sets come with plenty of mixing areas in robust plastic cases. Cotman sets are available as both pans and tubes.
Looking for high quality colours at the best price? Schmincke are renowned for their watercolours, and their affordable Akademie range is Made in Germany from true artist's quality pigments and binders. Akademie Watercolours lift effortlessly from the pan and combine cleanly to produce brilliant mixtures. The paint is easily controlled even on soft papers, and the paint remains fully resoluble when dry on the palette.
Cost is kept down with a reduced colour range and twice-filling of the pans, rather than the four-times filling of the Schmincke Horadam. Akademie Watercolours are available in tin sets of 12 and 24 pans, with replacement colours available from the Horadam range.
Schmincke Horadam Aquarelle represent the finest watercolours available, blending 140 years of family care and tradition with the best German colour technology. With 139 mostly single-pigment colours in the range, offering classic genuine earth pigments alongside the latest, dazzling modern colours, Horadam allows the full gamut of sensation, from delicate, soft washes to intense brilliance.
The standard colour selections are made according to mixing systems, with cool and warm hues plus earth and dark tones. The 12 Pan Set SC74112097 even comes with a da Vinci Travel Brush! There are also special selection palettes, such as seasonal, pearlescent, and granulating colours, or you can make your own with an Schmincke empty metal box and your choice of individual pan colours. Pans can also be refilled from Horadam tube colour, as the formula for both is the same.

Since 1892, Schmincke have made their Horadam Watercolour Pans to a unique recipe that requires a liquid filling process that takes 3 to 4 months. Each time a pan is liquid filled to the top, it is oven-dried to remove moisture, which reduces the volume, so is filled to the top again, and so on until the pan is packed with the most concentrated combination of pigment and binder possible. Full colour strength comes away effortlessly with the swish of a wet brush.
Daniel Smith Watercolours from the USA offer a fantastic array of 235 colours, from the standard to the extraordinary, including genuine mineral colours such as Lapis Lazuli and Hematite. Daniel Smith pan colours are hand-poured so the paint re-wets quickly and easily, giving you strong, pure colours.
Sets include special colour selections, and additional empty pans which can be filled from Daniel Smith tube colour to customise your colour palette.
Whether you plan to take a box of colour with you on your travels or have a ready-to-use set on hand at home or in the studio, watercolours provide you with instant brilliance and delight. At Gordon Harris, we have watercolours sets to suit everyone, along with the best choice of papers and brushes to go with them. Browse one of our seven stores nationwide or shop online for your splash of colour.