Canvas to Fabric: Pebeo Fabric Paints & Markers
Fabric painting is a technique that began thousands of years ago in Asia and eventually expanded to Europe and Africa through trade routes. Now recognized globally, fabric painting is used daily as a hobby and for business.
Pebeo's Setacolor Fabric Paint & 7A Markers are ready-to-use and highly concentrated. Pebeo Setacolor Fabric Paints create beautiful effects on all-natural or synthetic fibres. Ideal for staining, painting, or printing, they become entirely resistant to washing and dry cleaning after heat-setting with an iron, and they won't cause fabrics to stiffen. Air dry for one hour before heat setting.
Thinking about what fabric to use for these demos, I went back and forth with painting on an old top or a tea towel. I then remembered my collection of canvas, linen, and cotton bags I have that I get given when purchasing homeware and clothes as a sort of unboxing experience. I'm never sure what you are supposed to do with these fabric bags after you unpack your purchase, and I would love to know how other people re-use them and give them a second life. Sadly in 2022, our landfills are overflowing with textile waste, which makes up between 7-12% of landfills globally.
To avoid chucking these fabric bags in the bin, I re-use them for travel compartments for my clothes when traveling but always have trouble remembering what is in each fabric bag.
This is when Pebeo Setacolor & 7A Fabric Markers come in handy!
I am a massive fan of the Pebeo range and have used their ceramic paint on second-hand plates to give them another lease on life. So I was excited to get my hands on their fabric paint & markers and see what I could come up with.
Starting with Pebeo Setacolor, there are 3 different products depending on the material you are painting on.
- Opaque – thicker consistency for dark fabrics
- Pearl Opaque – similar to the above but with a shimmer effect
- Light – for light fabrics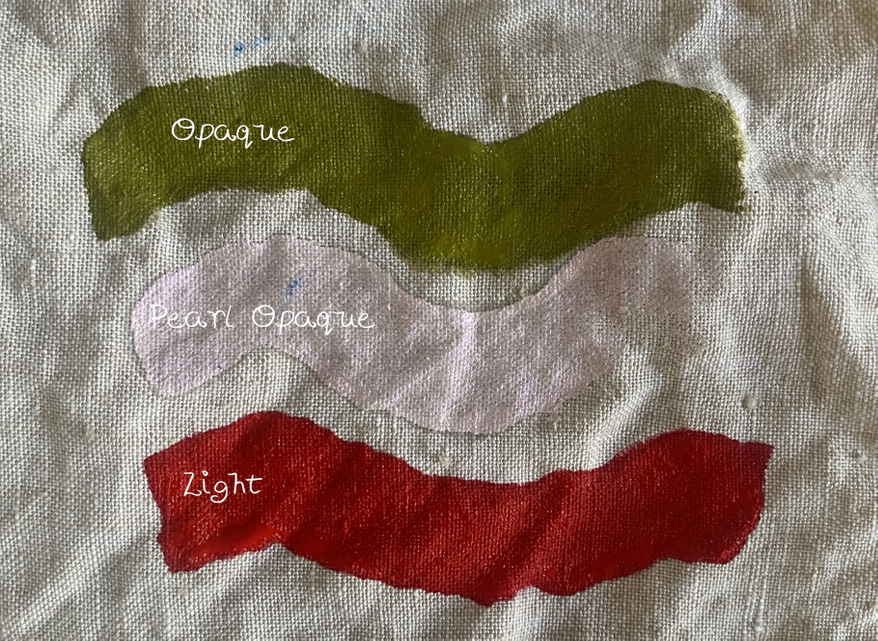 When painting on fabric, we recommend using a material that is at least 50% natural fibres because the paint will adhere and remain durable over time. We always recommend you wash the fabric to remove the sizing before the painting but do not use fabric softeners as they leave a coating over the material that can resist the durability of the paint.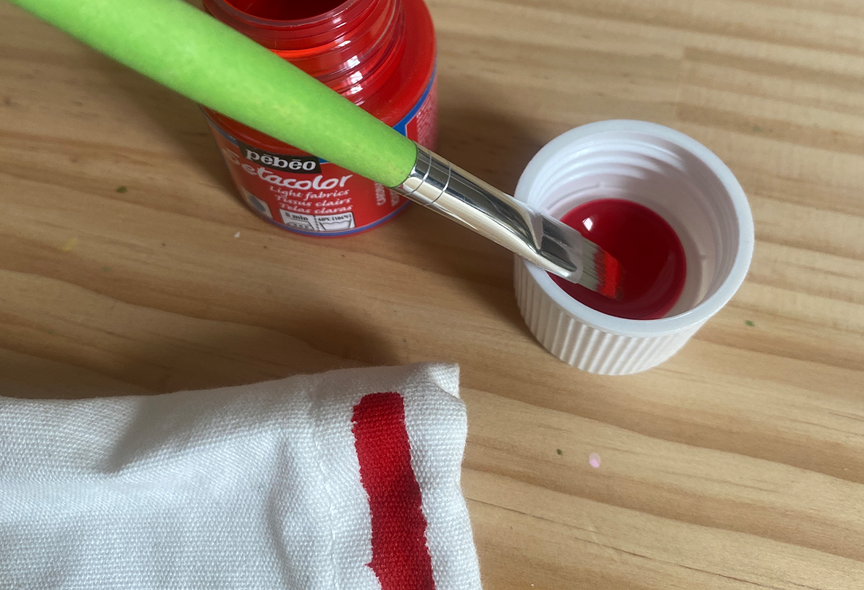 Top Tip: Shake the paint when the lid is on and use the lid like a paint well for you to dip your paintbrush in when the jar is getting low.
I used our da Vinci fit hobby brushes for these. Even if you are after small detail, I recommend using flat brushes to allow you to have more control over the fabric. A round brush would be hard to pull the paint across the fabric surface, and you would need to load your paintbrush up a lot which wouldn't allow you to get thin lines if that's what you are after. A flat brush will enable you to have more control and several ways to apply paint. Thickly applied with its wider side, thin lines using a stamping technique by using the side of the brush + small detail using the corner of the brush on an angle.
There are several other ways you can apply the paint – with a sponge or even screen sprint.
Using a sponge is a great way to apply paint if you have a stencil. You will be able to quickly dab the colour onto the fabric while the stencil is laid down flat and pull it away to dry.
Using Setacolor, I was delighted by how easily it glides onto the fabric –the heavier the material, the easier the application as the surface will have more tension. I recommend stretching it under a board if you are using a piece of lighter fabric so the surface has tension and lays flat.
If you are using a piece of lighter fabric, you will want to insert a board under the material or slide the panel between the fabric if it is a bag or clothing piece. This means the paint will bleed onto the board and not the other side of the material.
Our Pebeo 7A fabric markers are also a great option – especially for people who aren't comfortable using a paintbrush. These are water-based markers that also adhere to most fabrics.
When working with a new marker, you will notice the ink hasn't come down the tip. To get the ink out, you will need to hold the marker vertically and press it down multiple times on a paper towel to release the ink. If you ever find while you are using it that the ink isn't coming out as well, press it down again a couple of times, and the ink will flow out easily.
The markers are great for lettering, making it very easy to do so. You can also use the markers to colour in and treat it as a paintbrush without having to dip it back into the paint to top up the brush.
I did find I put a lot more pressure on the material to get the paint out, so you will want to make sure the fabric is flat and pulled tight, so you aren't moving it around too much.
Once you have completed your artwork or design, you want to turn the fabric over and set it by ironing it for 5 minutes. You can also place another piece of fabric on top of your artwork - you just don't want direct heat. Once you have completed the ironing process, it is now washable (on a cold wash) and dry cleanable.
So next time you are about to chuck out some fabric or an old top that has a stain – give it a second lease on life by covering that stain up with art or a design with Pebeo fabric paint and markers.